US DOMINATES USED TEST EQUIPMENT MARKET AT 90%!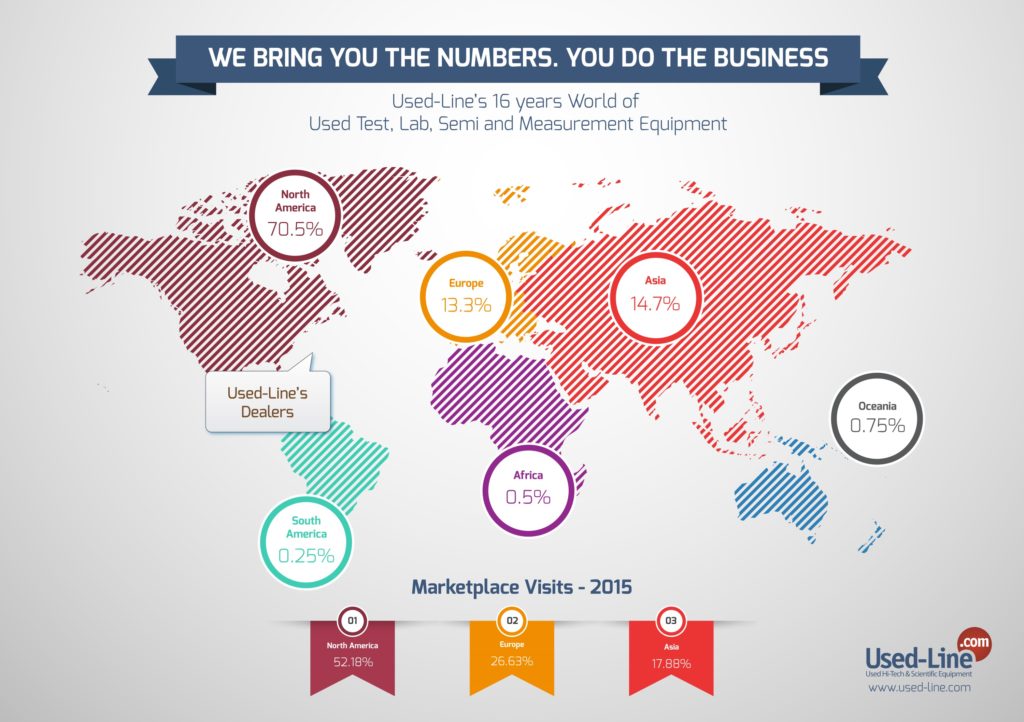 .
What's behind this astronomical growth and what does it mean for the rest of the world?
As we come to the close of a successful 2015 sales year, we at Used-Line want to share some of our market observations and projections with you, our valued customers.
Used Test Equipment Market Snapshot.
A simple look at the Used-Line Dealers Directory shows North America as the most dominant of the 5 major global markets today by far, with over 70% of our dealers embedded and handling 92% of the products listed.
Europe, handling 6.2% of products, is a very distant second, followed by Asia, Oceania and the rest of the world.
Why is the US Market Growing?
America is experiencing a period of economic growth. The Bureau of Economic Analysis estimates the real gross domestic product (GDP) for 2015 increased at an annual rate of 2.1 percent in 2015 Q3. Employment was up, as well as personal income (up 0.9%) and market optimism translated into higher buying power.
A $4.13 Billion Growth Market
MarketsandMarkets consulting predicts the automated test equipment market will reach $4.13 Billion by 2020, fueled by an increased demand for consumer electronics, more complex designs and a growing need for more effective testing.
But even with the US occupying such a big chunk of the market, other regions are still dealing with a potential market of close to half a billion dollars.
But what does the future look like for these smaller markets?
Growth Potential for Other Regions
Despite their relatively small share of the used test equipment market, smaller markets have also grown.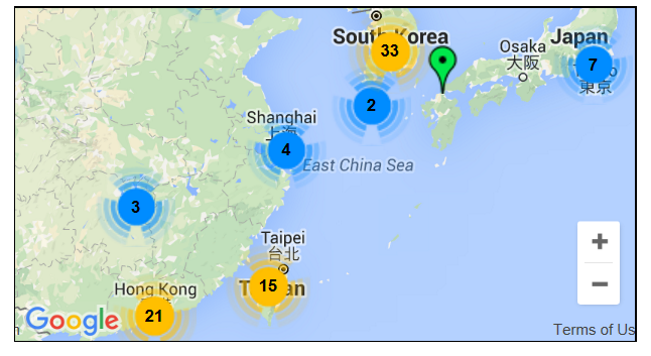 .
The Asia used test equipment market, which only had 7% dealer representation a few years ago, now has 14.7%.
Wireless network expansion in Asia and future developments on the planning boards mean future market growth opportunities. Plus the implications of the recent Climate Change conference in Paris mean a whole new restructuring of global industry of which Asia and other small markets will be scrambling to take advantage.
In other words, the market could grow even more than analysts estimate.
Used-Line will be keeping a close eye on this and other trends in Used Lab, Test, Measurement and Semi Equipment Market and let you know what we see in future updates.
We at Used-line will continue to do everything we can to connect you to the used test equipment market bringing you the latest news, market reviews and analytics to help you take advantage of the market.
Established 16 years ago, Used-Line has grown to become an acknowledged leader in the field of Used Lab, Test, Measurement and Semi Equipment with over 775 used equipment dealers worldwide, over 300,000 trusted used equipment listings and hundreds of thousands of customers,.
Used-Line connects thousands of new buyers and sellers of quality used and new high-tech and scientific equipment every month.
WE BRING YOU THE NUMBERS. YOU DO THE BUSINESS.
Follow US
Be the FIRST to GET
the MOST RECENTLY POSTED PRODUCTS at the LOWEST PRICE
UPDATED DAILY at Used-Line.com
==================================================================
Your Preferred Used Equipment Dealer
If you know a dealer who may be a good fit for Used-Line dealer directory, please fill in the form below – and let them know about Used-Line.